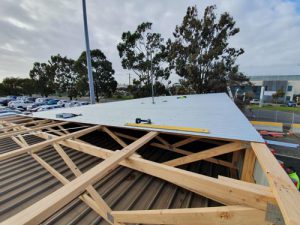 Roofing
L&C Harding Plumbing are also highly experienced in roofing, able to cover all your roof replacement requirements from single story buildings to 5 stories.
Take a look at our portfolio to see the diverse range of roofing jobs we have done for some of Melbourne's largest companies in the commercial and industrial sectors.
We can also assist you with asbestos removal, and you can have confidence in the knowledge that our operators are fully accredited and work to the highest safety standards and levels of expertise. Don't take the risk, only let a qualified tradesman handle your roofing needs.
Roofing Installation Melbourne
Roofs can suffer wear and tear over the years, as they are exposed to the elements. When it's time to seek out roofing installation for your Melbourne home, commercial site or industrial site, turn to the qualified team at L&C Harding Plumbing.
Whether you want a new look for your roof or need repairs, L&C Harding Plumbing can handle it, as we are the experts in Melbourne for roofing installation. We get the work done quickly with minimal impact on your home or business, while prioritising safety.
Call us today on 1800 426 664 for all your roofing installation or repair needs across domestic,commercial or industrial sites. Our team are particularly well-known in the Western suburbs, having serviced Footscray, Sunshine, Altona, St Albans and surrounding areas for decades.
For all your Plumbing, Roofing, Building, and Sheet Metal Fabrication needs, do not hesitate to Contact Us.
We are always ready to assist you!
You may also Like our Facebook and Follow our Instagram page.